Goat Simulator 3 seeks to send us back to a much simpler time when you caused untold carnage as a stupid little goat, and it's probably going to be glorious. Or it will be terrible. Either way, it will be fun. Coffee Stain's next game is available for pre-order now on PC via the Epic Games Store, PS5, and Xbox Series X&S, ahead of its November 17 launch, and you can purchase multiple editions. Here's what you need to know.
Goat Simulator 3 Prices and Editions
Goat Simulator 3 pre-order bonuses
The Goat Simulator 3 pre-order bonus is actually called the "Pre-Udder" bonus, and that's exactly what it sounds like. Pre-ordering any version of the game will give players a cosmetic udder to equip on their goat, as this is a silly game made for people who like silly things.
Goat Simulator 3 Pre-Udder Edition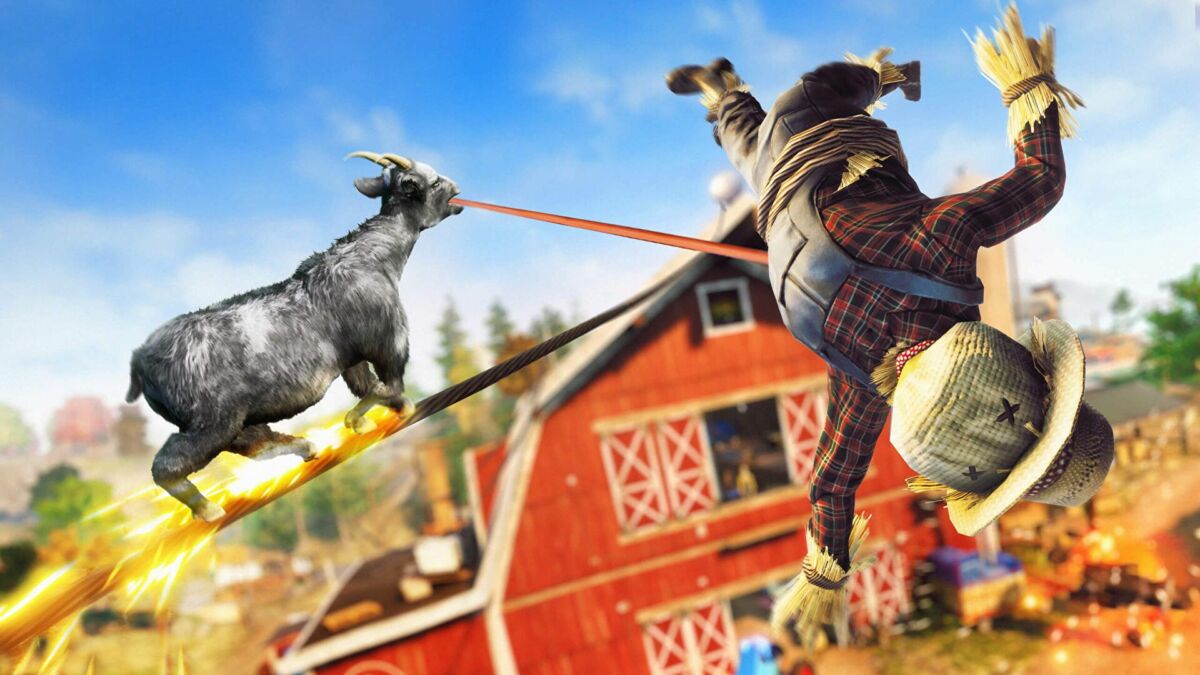 Price: £24.99/£29.99
Physical/Digital: Both
The standard or "Pre-Udder" edition of the game is available to buy both physically and digitally, with pre-orders live now. Aside from the pre-order bonus, there's nothing really special about this version of the game, but at least it's a bit cheap.
Goat Simulator 3 Digital Upgrade Edition
Price: £34.99/£39.99
Physical/Digital: Digital
The Digital Downgrade edition of Goat Simulator 3 essentially serves as a Digital Deluxe version of the game, with a set of optional extras aimed at fans of the series. The Digital Downgrade Pack includes the following "Remastered Trash":
– The ability to play as Old school Pilgor (the original goat)
– Full tank armor (from MMO DLC/standalone)
– Skin Goat Zero (from GoatZ DLC / standalone)
– Space helmet and suit (from Waste of Space DLC)
– Don Pastrami, Valentino Salami, Dolph Spaghetti & Humphrey Ciabatta masks (from Payday DLC)
– Digital soundtrack
– 3D print files for Pilgor, Tony Shark, Goat Tower and a jewel
Goat Simulator 3: Goat in a Box Edition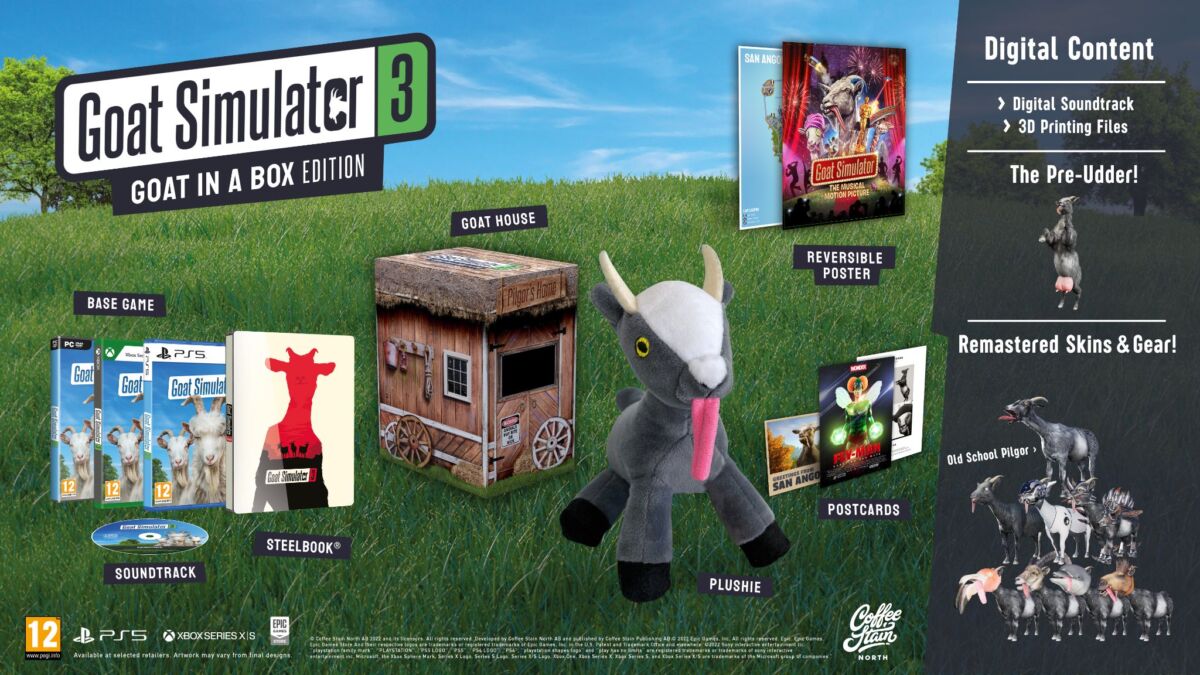 Price: Unconfirmed at this time, likely around £70/$80
Physical/Digital: Physical
In addition to all the goodies that come with pre-ordering the game or purchasing the Digital Downgrade Edition, the Goat In A Box edition of Goat Simulator 3 also comes with a slew of physical goodies. These include:
– A disk
– A personalized Goat Box that looks like a mini goat barn
– A small stuffed goat with a large tongue, like in the game
– A shiny Steelbook
– 3 postcards representing different arts
– A double-sided poster with even more wonderful artwork
When will pre-orders go live for Goat Simulator 3?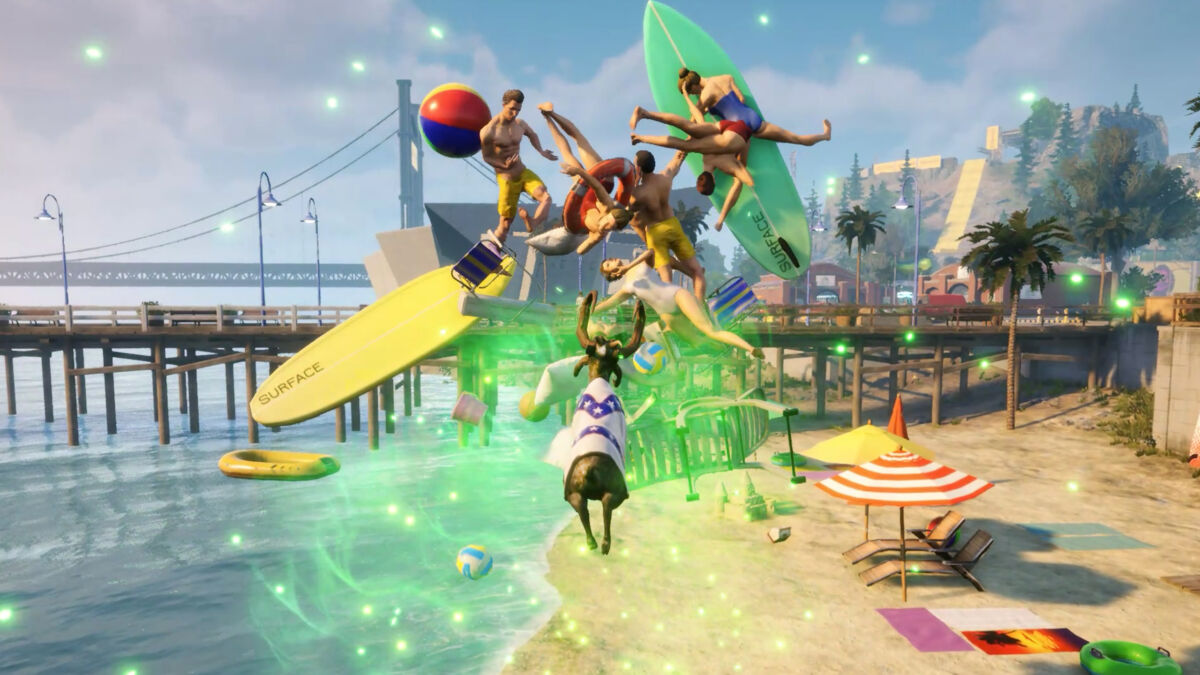 Pre-orders for the standard and Digital Downgrade editions of the game are now live on PC via the Epic Games Store, PlayStation, and Xbox, but Goat In A Box pre-orders don't appear to be live yet. The press release for this announcement mentioned that pre-orders are currently only available in the EU and ANZ regions, but we imagine pre-orders will go live soon worldwide.
READ MORE: 54 best open world games of all time
Some of the coverage you find on Cultured Vultures contains affiliate links, which provide us with small commissions based on purchases made while visiting our site. We cover gaming news, movie reviews, wrestling and more.