Family-owned book, toy and teacher's supply store Givens Books & Little Dickens has been in business for more than four decades and despite relocations, pandemics and online competition, it has continued to expand its customer base which have proven that the love of reading never goes out of fashion.
The bookstore had a big scare during the coronavirus pandemic and feared it could sink. Now, more than two years after the first case of COVID-19 was reported in Virginia, the store is taking stock of the changes and looking to the future.
"We were nervous. We were scared," owner Danny Givens said. "We were like 'What the heck, after 40 years in business, is this going to nail us? And it was scary for about six months, but Lynchburg came for curbside service and that kept us going. I was so moved by that.
Givens had made a significant investment in the company's website, so customers could order online. But for loyal customers still investing in local businesses, it was a powerful thing for Givens, which has been part of the "buy local" movement for 15 years, to see.
"Just to feel the local support and we really felt that we were winning back customers who had been gone for 10 years and they were back," he said. "They energized us and for that feeling of being scared and scared, it was kind of pushed aside in this energetic movement of 'We can do it. We can get through this. "
Givens Books has a history that dates back to its nomadic founder, George Givens, who took his family traveling all over the county.
"One year he was traveling Lynchburg and we all thought he was on this historic trip because he was always into museums and historic sites," Danny Givens said. "Three years later he said, 'OK kids, we're going to pack up and move to Lynchburg. ""
So he quit his job and moved to Lynchburg with six children.
"I was 13 at the time and loved a free summer, and I was used to the Arizona desert, so seeing chickens, trees and lakes was a great adventure for me. ", said Givens.
It was George Givens' childhood dream to open one, so he opened Boonshire Books in a 600 square foot former gas station on Boonsboro Road. It was 1976, just three years after the family arrived from Tucson, Arizona.
In 1979 he moved the bookstore to Lakeside Drive about half a mile up the road and changed the name to Givens Books, where it remained until 1999.
By 1989, Danny Givens had finished college and was teaching English and Spanish at Jefferson Forest High School. He decided to work part-time with his father at the store but wanted to offer something new.
With that, he converted an 800-square-foot shed next door into a toy and teacher's supply store and called it Little Dickens.
"Lynchburg just needed two things. It needed a toy store; Toys 'R' Us was not there. And he needed a teacher's store," he said. "Teacher stores were starting to explode back then."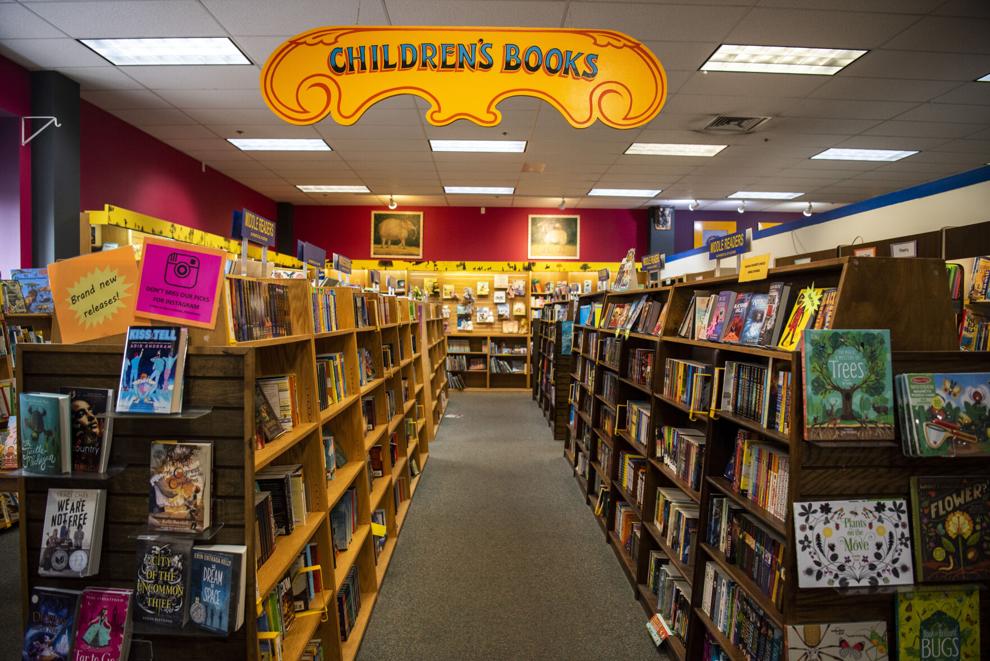 When George Givens retired at the age of 70, his son bought the business and continued it into the future – to its current location.
In 1999, Danny Givens purchased four acres of land at 2236 Lakeside Dr. and brought Little Dickens and Givens Books under one roof, growing the business from 9,000 square feet to 16,000 square feet.
"I thought, if this blows up, I need to make sure that when people have a retail experience, you feel it and it's memorable. It's the vibe, it's the experience of walking in and not just seeing four walls and shelves of toys and books," he said. "So I really tried very hard in 1999 when I designed this to make sure that when you walked into the brick entrance, the feeling was, 'Wow, I feel good about that. ""
He hired an eccentric and daring English artist who created the bright, eye-catching exterior and interior of the building.
"I mean, the blue and yellow stripes on the outside are pretty wild, but it's memorable and we feel like it still has some class to it," Givens said. "There are probably purist architects who would say, 'What?' but most people really liked it and the kids loved it.
Inside the store is a massive clock, flying pterodactyls, spaceships, robots, and Jack from the fairy tale, "Jack and the Beanstalk" climbing on said beanstalk. The store rented space from the Drowsy Poet to make it a cafe.
Years ago, when e-books became a popular part of the industry, local stores selling paper books held their breath. But only for a few years.
"They went up the first two or three years and then they started to go down," Givens said.
The biggest competition hasn't even necessarily been Barnes & Nobles but rather Amazon, he said.
"We feel we can compete with the big box stores. It's the internet, where people can sit down in their pajamas at one o'clock in the morning and order a book," he said.
Local independent bookstores are becoming increasingly hip and trendy, as are local cafes, he said.
"If you compare bookstores from 2005 to 2020, there are probably 500 more independent bookstores," Givens said. "So people are like, 'Oh, no, how do bookstores survive? Sure, a lot came out, but it was Books-A-Million and Borders, and it had a vacuum effect and a lot of independent stores moved into those areas. They are not department stores, but they are thriving neighborhood bookstores.
Books should be a crucial part of most people's lives, especially in childhood, Givens said.
"I think if they learn to read and enjoy reading when they're younger, it prevents boredom later on and it gives them passion and energy for other things."
Nine-year-old Annika Elder has been going to Givens Books & Little Dickens from her home in Charlotte Court House since she was around 5 years old.
She said she stopped by every week when she came to town to practice dancing.
"I like going there to pick up a book, but I also really like it because they don't just sell books, they sell a bunch of different things," she said.
Elder said she reads a lot of books and loves mystery and historical fiction.
"There's a huge variety of stuff, it's a great place to buy books or a gift for someone and they even have a little cafe there," she said.
Givens believes that most humans are instilled with curiosity and that deep down most enjoy learning and growing.
"I try not to sound corny, but I think there's a child in most of us and I think we have an instinctual desire to play," he said. "I think we lose that when we're around 12 and serious life kicks in, but some of my best times were in my 40s and 50s when I was able to lose that sense of age. serious adult and find play."
That's why he still sells old-fashioned toys like goals, marbles, and pick-up sticks as well as puzzles and games that don't require batteries or the internet.
Cheryl Ritchie said she discovered Little Dickens when it opened and never stopped going and is now experiencing it through her grandson's eyes as she was discovering reading and playing.
"I watched the progression from the original space to what has now turned into an expansive and wonderful combination of bookstore, toy store and teacher's store," she said. "The expectation begins from the outside, with an inviting and magical showcase."
Upon entering, it's immediately apparent that the general ethos is to broaden the minds of all ages, she said.
"Danny has always been involved in selecting the items that come into the store, all with the goal of expanding minds from an early age," she said. "I have always believed that toys should be a means of learning, whether it is knowledge or skills, and I wanted to be able to buy such items and learning materials for my daughter, locally."
Looking ahead, Givens said he believes the business will continue to grow as long as the Lynchburg community still finds it relevant.
"Which they do, and they always like to support their well-run local businesses," he said.